Light's of Hope Merchandise
Looking to support our community cause and look fantastic doing so?  Browse our online store here for shirts, hats, jackets and more powered by Barker Specialty Company.
Light's of Hope Long Sleeve Shirts
The same shirt our volunteers wear!
Long sleeve grey with white and color logo
$25.00 per shirt ($0 shipping cost)
Adult sizes S, M, L, XL, 2X, 3X available
Local pickup or delivery in Cheshire, please provide details on your desired choice within the Special Instructions section in PayPal checkout
Most sizes in stock for delivery within 2-3 days, if by chance we run out, we will notify you with estimated availability time
For bulk or cash orders, simply follow instructions to contact us below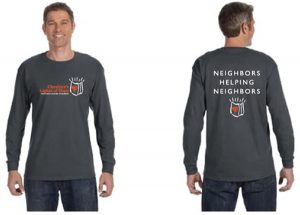 Just a few simple steps to order using our secure online order process powered by PayPal.
Select the size desired
Provide us a phone number to arrange for pickup or delivery
Select Add to Cart
Once in PayPal, select quantity and complete payment and checkout
If you're placing an order for more than one shirt size, use the Continue Shopping link within PayPal to return and repeat steps 1-4 above until ready for final checkout
Already have items in your PayPal cart and want to return to complete checkout, simply select View Cart below.
Any questions simply contact us and select Merchandise Coordinator within the Contact Us Form 'Select a Recipient' dropdown list.