Save The Date - Next Luminary Event November 14, 2020!
---
Calling All Street Captains and Volunteers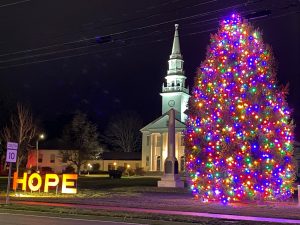 Cheshire's Lights of Hope is calling upon its network of over 240 Street Captains and volunteers to participate in the "Neighborhood Connection" program.
Created in partnership with Cheshire's Human Services Department, Cheshire's Lights of Hope Street Captains and volunteers will have the opportunity to do periodic outreach and virtual wellness checks on elderly and/or other neighbors who may be isolated during the crisis.
Learn more
---
Thank you for amazing 2019 Luminary Event!
This year we raised $70,000 dedicated to neighbors helping neighbors – bringing fundraising total to more than $985,000.
On Saturday, November 9, 2019 Cheshire's Lights of Hope hosted its 15th annual town-wide luminary event and presenting $34,000 in grants to local nonprofits. More than 50,000 illuminated the town and the annual event has now raised more than $985,000.
During the afternoon ceremony on the Cheshire Town Green attended by more than 100 volunteers and sponsors, Don Walsh and Jenifer Walsh, co-founders of the organization, proudly announced due to the success of this year's donations and sales of luminary kits, the nonprofit awarded:
$13,000 to the Cheshire Community Food Pantry
$13,000 to Cheshire Youth and Family Services
$8,000 to the Petit Family Foundation
The money raised will also award two $2,000 scholarships for volunteer-oriented high school seniors in June 2020.
The event also funds Cheshire's Lights of Hope commitment of $25,000 toward the construction of the new Cheshire Community Food Pantry building. The fourth and final installment will be presented early next year to the Community Food Pantry and Cheshire's Lights of Hope will continue to make donations throughout the year to other Cheshire-based organizations.
Read more
---
Subscribe to Our eNews
Please subscribe to our general enews for updates on exciting events taking place!
You can also subscribe specifically to our Street Captain and Volunteer enews with the respective sections of our website.
---
Share Your Photos and Videos
To allow others to experience what a community can do in support of neighbors helping neighbors, we ask that you please share your photos and videos on our Facebook, Twitter, Instagram and YouTube social media channels, or email them to us.
2020 Event Countdown
55
Days
00
Hours
34
Minutes
41
Seconds
In The Spotlight
Celebrating its 15th year, Cheshire's Lights of Hope has raised over $985,000 for local charities since its birth in one small neighborhood
Did You Know?
Luminaries purchased: Over 700,000
Scholarships awarded:
Over $32,500 to 15 deserving high school graduates
Number of volunteers: thousands
Number of sponsors: over 200 businesses, individuals and families
Miles lit up: over 250 miles