Welcome to Cheshire's Lights of Hope Online Store
Here you'll find all our Light's of Hope themed merchandise available for purchase.
CLOH Long Sleeve Shirts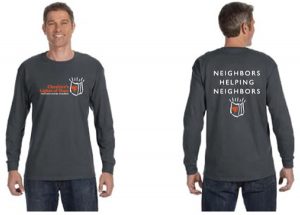 Our dark grey long sleeve shirts are made from 100% real cotton, have our latest logo and 'neighbors helping neighbors' tagline on the front and back of the shirt.  Adult sizes are made to fit either gender.
Your order can placed with or without shipping included.  The w/o shipping option allows for local pickup in Cheshire, CT only.  If you choose local pickup, we will use the email address provided by your PayPal account to contact you to arrange a date, time and location.  Please allow 1-2 weeks for delivery on all orders.
To order yours today simply select your Delivery Method and Size, then Buy Now to be navigated to our secure PayPal payment service.  Once in PayPal screens, you'll be able to adjust the quantity and provide us any special instructions regarding your order.
For large quantity orders, please contact us with your specific needs.