Save The Date - Next Event November 11, 2017!
Please subscribe to our enews for updates on exciting events taking place!
Thank You Cheshire for our 12th year and raising $770,000 to date!
This year, we raised $70,000 and made donations to the Cheshire Community Food Pantry, Cheshire Youth and Social Services Department, The Petit Family Foundation, The Cheshire Food Drive and earmarked funds for our two 2017 Scholarship winners.
On behalf of the entire Cheshire's Lights of Hope committee, thank you to:
All the residents and businesses who purchased luminaries or helped organize the event.
Joe & Robin Whitright and the entire staff of Paws Pet Resort & Spa.
Special thanks to the Cheshire First Congregational Church for hosting our event on their beautiful green making us feel at home.
Pat and Terry Bowman and the entire staff at R. W. Hine ACE Hardware.
Main Street Caffe and Cheshire Nursery for their assistance in selling luminaries.
Thank you to Coach Drust and the CHS Football Team.
The friends and sponsors of Cheshire's Lights of Hope who donated funds, time, talent, goods and services to light up Cheshire and, particularly, the Mile of Hope on Route 10.
Thank you to Coach Drust and the CHS Football Team Coach Kristine Drust and the CHS Softball team for cleaning up the Mile of Hope.
Please take some time as you walk or drive down the Mile of Hope and check out all the businesses in this town that helped sponsor this Mile. We can't thank them enough.  As you drive through town visit some of the larger displays at Cheshire Academy, White Oak Baptist Church, The Ball and Socket Arts and United Methodist Church.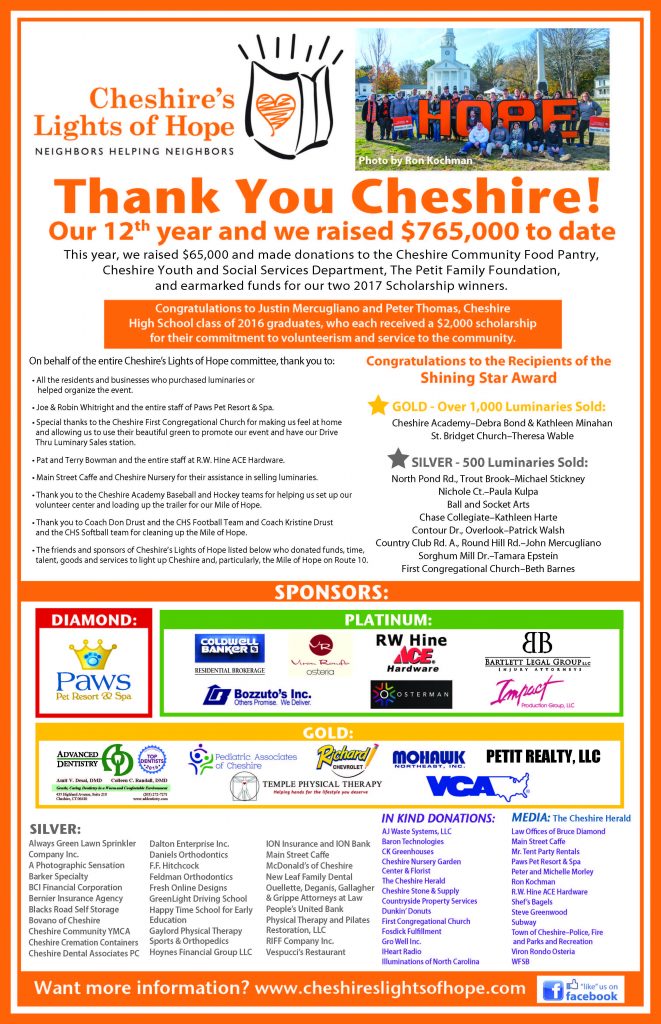 Share Your Photos and Videos
To allow others to experience what a community can do in support of neighbors helping neighbors, we ask that you please share your photos and videos on our Facebook, Twitter, Instagram and YouTube social media channels, or email them to us.
In The Spotlight
Celebrating its 12th year, Cheshire's Lights of Hope has raised over $770,000 for local charities since its birth in one small neighborhood
Did You Know?
Luminaries purchased: Over 700,000
Scholarships awarded: $20,500 to 9 deserving high school graduates
Number of volunteers: thousands
Number of sponsors: over 200 businesses, individuals and families
Miles lit up: over 250 miles